Please support Navajo Nation in any way at this time. Donate, for example, to the Official Navajo Nation COVID-19 Relief Fund, Yee Ha'ólníi Doo (Navajo and Hopi Families COVID-19 Relief Fund), Utah Tribal COVID-19 Relief, and other relief organizations. Please petition our leaders for more attention and support of our Indigenous peoples and families. Learn more at Navajo Hopi COVID-19 Response.
The Bluff Area Mutual Aid and the Rural Utah Project are also offering support to Navajo Nation and Indigenous communities in southeastern Utah, and you can volunteer (via this link on google forms) and donate (via this link on GoFundMe).
Departments, groups, and organizations that are gathering donations and offering assistance/support for Diné communities affected by COVID-19 (also websites with information):
American Indian Center of Chicago.
American Indian Community House, New York City, New York.
American Indian Health Service of Chicago, Inc.
American Society for Ethnohistory Covid-19 Resources and Organizations (updated May 21, 2020).
Arizona Governor's Office on Tribal Relations.
Association of American Indian Physicians.
Behavioral Health Collaborative, State of New Mexico, Coronavirus (COVID-19) Resource Center.
Bluff Area Mutual Aid (Coronavirus Relief), updated April 25, 2020.
CARES Fund Hardship Assistance Program, Navajo Nation Office of the Controller
Center for American Indian Health, Johns Hopkins Bloomberg School of Public Health, Navajo Nation.
Children of the Nááts'íilid (Rainbow), Voices of Siihasin, World Central Kitchen: In response to the COVID-19 pandemic, World Central Kitchen has served more than 18 million meals to people in need in 355 cities across the US & in Spain. In Navajo Nation, WCK has provided over half a million meals through fresh produce & food boxes containing enough ingredients to feed a family of four for seven days. This summer, WCK will be delivering Children of the Nááts'íilid (Rainbow) care kits weekly to Diné youth, to keep them strong, healthy and resilient. Nááts'íilid signifies renewal & resilience, the colors of the rainbow guide our pathways to support our youth & future generations. These care kits will include nourishing food, PPE and other supplies. Their goal is to raise funding to provide 47,000 care kits to families, equating to 927,360 meals.
Chinle Planting Hope – Food Baskets for Elderly on Navajo Nation-Covid-19: Chinle Planting Hope is a local organization that works on different community development projects in Chinle, AZ, on the Navajo Nation. They are currently focusing efforts on vulnerable elderly and working with the Chinle Senior Center to help get hot meals and emergency food baskets to elderly in Chinle and surrounding reservation areas.
Collective Medicine: A Native American network whose purpose is to gather resources that benefit and comfort fellow Native Americans. One of its campaigns is Water Warriors United for COVID-19 relief. They are committed to safely delivering potable water in 55 gallon barrels to elders and needy families in remote areas on the Navajo Nation.
Community Outreach & Patient Empowerment (COPE) Program, COPE COVID-19 Response.
COVID-19 Navajo & Hopi Elder Support Project: A coalition of concerned indigenous citizens and allies, including the East Valley Bible Church (Dba Redemption Church), hoping to support Navajo and Hopi elders from a distance. The aim is to provide bi-weekly distributions of food, water, cleaning supplies, and hygiene products from now until the middle of August. Donations are delivered to senior centers for distribution to Navajo and Hopi elders.
COVID-19 Resources for Indian Country, COVID-19 Resources Toolbox, The Harvard Project on American Indian Economic Development, Johns Hopkins Center for American Indian Health, Native Nations Institute.
Crownpoint COVID-19 Relief Food Drive.
Denver Indian Health and Family Services.
Diné Food Sovereignty Alliance: The purpose of the DFSA is to restore the traditional food system and foods on the Navajo Nation, in addition to researching and educating on the issues and gathering solutions for true food sovereignty.
Economic Resources for Indigenous Peoples Affected by COVID-19, First Peoples Worldwide, updated April 29, 2020.
Far East Navajo COVID-19 Response Fund.
Farmington San Juan County NM: Community Group in Response to COVID-19: This is a public Facebook group for sharing and organizing Farmington and San Juan County NM community information and resources in response to COVID-19. The goal of this group is to organize the local Farmington and San Juan County NM community on the grassroots level to ensure community members have access to up to date local information & resources relating to COVID-19, including: state, county and city updates, COVID-19 test sites, daily COVID-19 case numbers, food resources, healthcare and hospital updates, volunteer opportunities, local businesses and other relevant information to our community.
First Nations Development Institute, COVID-19 Emergency Response Fund: First Nations Development Institute is responding to American Indian, Alaska Native, and Native Hawaiian community emergency needs related to the COVID-19 pandemic to minimize the risk of Native communities becoming collateral damage. The COVID-19 Emergency Response Fund is designed to distribute funds efficiently and swiftly to Native nonprofit organizations and tribal programs that need it most. Initially, funds are being prioritized in high-concentration areas – California, New Mexico, the Pacific Northwest, New York, Navajo Nation, Hopi Tribe and COVID-19 hotspots.
Full Circle Intertribal Center: The vision of FCIC is to support, lead, educate, and promote wellness through Native American Traditions and Cultures. FCIC was founded in May of 2019 by a knowledgeable and passionate group of Native individuals, committed to making a positive difference for Native American People. They are a 501 (C) 3 non-profit organization serving as the leading provider of Native-Specific programming in Moab, Utah. FCIC provides tribal services, traditional consultation, Native Identity development and Cultural Continuity programs for women, men and youth. They are building bridges for barriers in services for Native Community by reshaping social services and working with community partners to collaborate and raise cultural awareness. They have recently dedicated their efforts to protect Native elders from COVID-19 and to offer needed resources for Native Americans in Grand and San Juan counties of Utah.
Fundamental Needs: This is an organization founded by Jennie Ramos, Kashon Harrison, Justice Ramos, and Joe Ramos to support "some of the areas where more help is needed." They noticed how lockdowns in the Four Corners area "were created for safety but the side effect of this act was disastrous. People have had a hard time just getting the essentials. Fundamental Needs plans to work closely with [their] neighbors to offer immediate help and more permanent assistance."
Greater Chaco, Health, COVID-19 Help Needed for Indigenous Communities in Greater Chaco
Health Resources & Services Administration, American Indian/Alaska Native Health.
Indian Country's COVID-19 Syllabus, Indian Country Today.
Indian Country Resources: Coronavirus (COVID-19), National Congress of American Indians.
Indigenous Food and Agriculture Initiative.
Indigenous Impact Rapid Response Initiative.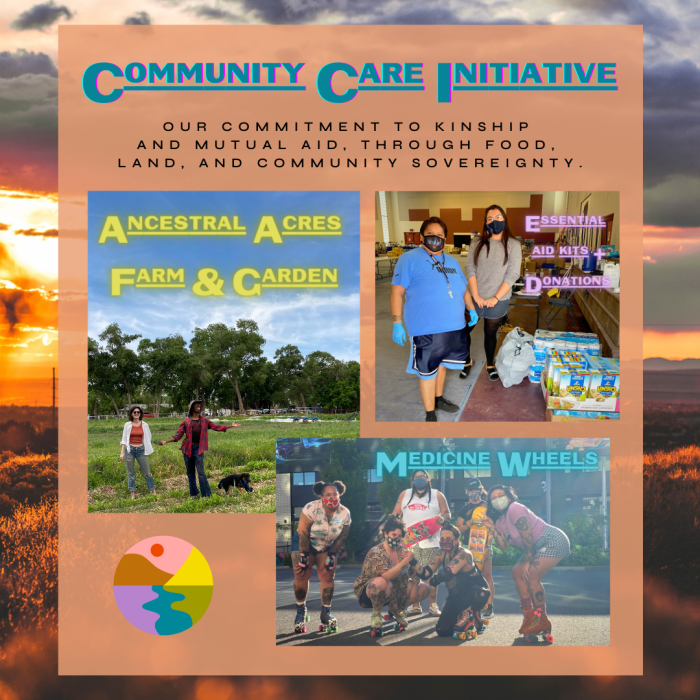 International Indian Treaty Council: The International Indian Treaty Council (IITC) is an organization of Indigenous Peoples from North, Central, South America, the Caribbean and the Pacific working for the Sovereignty and Self Determination of Indigenous Peoples and the recognition and protection of Indigenous Rights, Treaties, Traditional Cultures and Sacred Lands. See Online Trainings & Webinars/Capacitaciones y Seminarios Web.
Inter Tribal Council of Arizona.
K'é Infoshop, COVID-19 related links: A group of indigenous feminists seeking to rejuvenate and liberate Dinétah (Navajo Territory), K'é Infoshop, is partnering with the following organizations to build an autonomous yet effective distribution system to provide food and other essential items to families affected by the COVID-19 pandemic:
Linktree of Indigenous Mutual Aid Groups
Navajo & Hopi Solidarity
Taalaa Hooghan Infoshop
The Red Nation
Rez Refuge
Kinlani/Flagstaff Mutual Aid: This community response to the threat of Covid-19 is for members of the Flagstaff community to volunteer (including outlying neighborhoods — from Timberline and Doney to Kachina and Mountainaire) to offer skills, resources, supplies, space and time to community members who are most vulnerable. This is also for members of the Kinlani/Flagstaff community to ask for the help they need.
McKinley County Mutual Aid, Indigenous Life Ways: Indigenous Lifeways and several other organizations are collaborating to gain funding to help at-risk elders and families in McKinley County, New Mexico. About 75% of the county is Native American, and as many as 45.75% of the population speak Navajo at home.
National Congress of American Indians.
National Council of Urban Indian Health.
National Indian Health Board, COVID-19 Tribal Resource Center.
National Indian Justice Center.
Native American Connections, Behavioral Health, Traditional Healing.
Native American Contractors Association, Coronavirus Updates.
Native American Finance Officers Association, Coronavirus and COVID-19 Resources.
Native American Health Center, Covid-19 Community Resource Guides.
Native American Indian Housing Council, COVID-19 Resources.
Native Americans for Community Action, SARS-CoV-2 (COVID-19) Resources.
Navajo Department of Health, Dikos Ntsaaígíí-19.
Navajo Healthy Stomach Project is a research study on Navajo Nation that aims to lessen the burden of stomach cancer by learning more about how Helicobacter pylori (H. pylori) stomach infections are impacting Navajo households.
Navajo & Hopi Families COVID-19 Relief, Yee Ha'ólníi Doo: An all volunteer grassroots indigenous-led group operating on the Navajo and Hopi Reservations. Prioritizing the elderly (especially those raising their grandchildren), single parents, and struggling families by helping them buy groceries, water, and health supplies, and by protecting them (and their susceptible communities) from exposure by engaging volunteers to make the purchases and deliver them to a safe transfer location for the families.
"As part of [their] PR and education campaign, Navajo & Hopi Families COVID-19 Relief and Catapult Design have collaborated to develop this 'Kinship Care Package' one page COVID-19 educational piece translated in both English and Navajo that will be included in each of [the] Kinship Care Packages to help educate Navajo & Hopi families. The one pager educates the public about what the coronavirus is , how to recognize symptoms, how the virus spreads, social distancing protocol, how to properly wear a mask, and wash hands. Please download and share with others. Please stay home and stay safe!
Thank you so much to Catapult Design for your generous donation, and wonderful work! Thank you to Theresa Hatathlie-Delmar and her husband for the translations into the Navajo language."
"In an unprecedented move for Air Serv International, which normally conducts humanitarian relief efforts overseas, the organization is partnering with the Navajo & Hopi Families COVID-19 Relief Fund (Relief Fund) to transport critical humanitarian relief items by plane to remote Navajo and Hopi communities to help residents combat their fight against COVID-19."
Navajo Hopi Honor Riders, 2000 Masks Needed for Navajo Country COVID-19: The Navajo Hopi Honor Riders are requesting people to make and send masks.
Navajo Nation Office of the Controller CARES Help: The Controller serves as the main accounting officer and auditor for the Navajo Nation. The Navajo Nation Office of the Controller (NNOOC) is responsible for processing and monitoring the CARES Help applications and funding.
Navajo Safe Water: Protecting You and Your Family's Health: The Navajo Nation is providing new safe water sources for in-home use to residents living in homes with no piped water during the COVID-19 Public Health Emergency. This website describes how people without piped water in their homes can gain access to water from safe sources. This website provides information on water point locations, operating hours, and contact information. There is also information provided that will explain the importance of accessing and hauling your drinking and cooking water from safe water points. If the "Where to Find Safe Water" and "Navajo Nation Homes without Piped Water Access" maps do not load properly, please try using this link instead.
NavajoStrong: NavajoStrong is a grassroots Native-led organization formed to aid the Navajo reservation. For the past few months, in 2020, NavajoStrong has been delivering essential supply bins, water, and other home goods to the Navajo community on the Navajo reservation. The supply bins they have been dropping will help those who cannot leave their homes. They get the supplies right to their doorstep if they can, and they also drop off supplies at local chapter houses to be distributed. They have delivered close to 300 bins to families in need as well as 6 local chapter houses. See https://www.navajostrong.com/.
Navajo Traditional Teachings, YouTube channel.
Navajo Water Project, COVID-19 Response.
National Indian Council on Aging, Inc.
National Indian Education Association, Supporting Native American Students during the COVID-19 Crisis.
NDN Collective Covid-19 Response Project: The NDN Collective's COVID-19 Response Project is designed to provide immediate relief to some of the most underserved communities in the country. NDN's intent is to quickly distribute resources to frontline organizations, tribal nations, and individuals to provide gap services during this health crisis, and to artists and entrepreneurs who have suffered the economic impacts of the COVID-19 pandemic.
New Mexico Indian Affairs Department.
Níla' Táánígis, Wash Your Hands: This group was organized by a family originally from the northwestern Navajo communities of Coppermine and Bodaway/Gap (near Page, AZ). Their efforts began when an aunt posted a picture of two hand washing stations made from recycled laundry detergent containers. The group partnered with her and began collecting supplies for these hand washing stations in their current city of Albuquerque, NM. They soon built a prototype for a water container using a 5-gallon bucket and spigot. They have collected donations to build at least 300 hand washing stations to deliver to Navajo families on the reservation beginning in the week of July 6th. They continue this effort to build and provide more portable hand washing stations.
Northern Diné COVID-19 Relief Effort: A community coalition that has brought together community stakeholders and volunteer service groups, government, and the private sector to provide community food and essential supply relief for the community in response to the COVID-19 public health emergency. NDCVRE primarily serves the Shiprock Chapter area and neighboring communities in the Northern Navajo region upon request. Shiprock Chapter is by far the largest chapter at an estimated 12,000 residents.
Official Navajo Nation COVID-19 Relief Fund: The Navajo Nation COVID-19 Fund has been established to help the Navajo Nation respond to the COVID-19 pandemic. This is the Navajo Nation's official COVID-19 fundraising and donation effort.
Official Site of the Navajo Nation.
Partnership with Native Americans: Partnership With Native Americans is a 501 (c)(3) nonprofit organization committed to championing hope for a brighter future for Native Americans living on remote, isolated and impoverished reservations. Collaborating for nearly 30 years with their reservation partners, they provide consistent aid and services for Native Americans with the highest need in the U.S. The only Native-serving charity to work in hundreds of reservation communities year-round, their service area is concentrated in 9 priority states and encompasses Pine Ridge, Rosebud, Navajo and other high-need reservations. Scholarships are offered nationwide to eligible Native students.
Phoenix Indian Center, COVID-19 Resources.
Physicians Committee for Responsible Medicine, Native American Resources.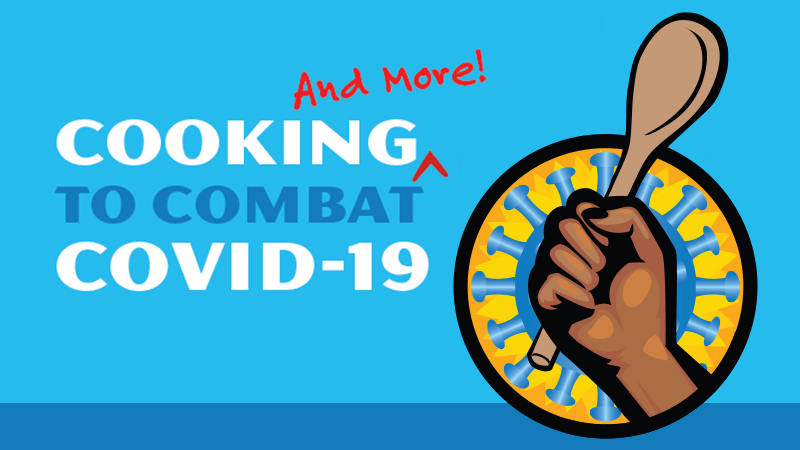 PPE for Navajo First Responders: Ginger Sykes Torres and her family have been sewing fabric face masks to supplement the lack of personal protection equipment (PPE) on the Navajo Nation. Together with friends they have donated over 600 masks to medical workers, first responders, senior programs, and other essential workers on the Navajo Nation.
Protect Native Elders: This group was organized in 2020 to operate in consultation with tribal command centers, which uses a rapid response model to deliver directly to facilities and first responders in emerging COVID-19 hotspots. In two months from a grassroots beginning, this organization delivered over $300,000 worth of PPE and other critical supplies to over 60 sites. They worked with suppliers, manufacturers, and DIY maker collaboratives to ship masks, face-shields, hand sanitizer, food, water and other essential elements directly to their distribution hubs throughout Indian Country. Protect Native Elders, affiliated with the non-profit California Tao, is a volunteer-based organization and fundraised (minus supply and distribution fees) to get PPE and other necessities to Native American communities across the country.
Protect the Sacred: A group of local healthcare professionals were concerned that too many Navajo people were unaware of the serious danger and harm that the coronavirus could inflict on the Navajo Nation. They asked Allie Young, citizen of the Navajo Nation and former employee of Shiprock Indian Health Service, to assist with encouraging youth to be leaders in the moment by relaying information about the virus and helping to keep their families home. Protect the Sacred was born to launch this call to action, becoming a grassroots initiative to educate and empower Navajo youth and young people throughout Indian Country to rise up as the next generation of leaders in protecting our elders, our languages, our medicine ways, and our cultures.
Rural Utah Project: This organization seeks to empower underrepresented voters in rural Utah by providing them with tools, training, and knowledge by means of voter registration, education, and issue advocacy on important topics that affect all Utahns. In late March 2020, the Rural Utah Project Education Fund was asked to serve as fiscal sponsor for the Navajo Hopi COVID-19 Relief Fund. Fiscal sponsorship, a fairly common agreement for non-profits, allowed for collaborations to focus on what matters most: how to get aid to the greatest number of people as quickly as possible. The Education Fund, as fiscal sponsor, doesn't make decisions over operations or messaging of the relief fund. They ease logistical hurdles. In Bluff Utah, Rural Utah Project staff and volunteers have helped create a mutual aid network for the Bluff Area, the 7 Utah chapters of the Navajo Nation, and the White Mesa Areas called Bluff Area Mutual Aid. This effort has focused on the delivery of food and supplies to families in need of aid. They are proud to work with partners in Bluff, the Utah Navajo Health System, and the Navajo Nation on ensuring this program provides sustainable and direct aid.
Salt Lake Valley COVID Mutual Aid: Salt Lake COVID-19 Mutual Aid Group is facilitating connections across the Salt Lake valley between individuals in need of support due to the COVID-19 outbreak, and individuals offering support to their community. With the worsening of the outbreak in Salt Lake City, many vulnerable members of the community need to self-quarantine and avoid public places to reduce the risk of contracting the virus, creating barriers to basic needs. In addition, many basic medical supplies these populations rely on in everyday life are now scarce. This group provides assistance and transportation for meeting the basic needs of community like groceries, prescriptions, and medical supplies and emergency cash assistance. Additionally, they are supporting the fight against racial injustice by supporting protests with water, masks, hand sanitizer and other basic safety supplies. This group has partnered with the Utah Tribal Covid-19 Relief to bring donations to the Shiprock region of Navajo Nation. Learn more about opportunities to volunteer throughout the state of Utah at Coronavirus.Utah.Gov. Many organizations need help serving people in need and can accommodate the need for volunteers to remain safe. See also UServeUtah.
Seeding Sovereignty, Indigenous Impact: Their new Indigenous Impact Rapid Response Initiative works to immediately provide sewn protective masks, distribute healthy meal kits to elders and families, fund essential stipends directly to those in need, and send Indigenous authored books to quarantined students. They support Navajo, Apache, and Pueblo communities in New Mexico where need is critical and with community partners Orenda Tribe, Pueblo Action Alliance, and the Jicarilla Child & Family Education Center.
Sewing For Navajo Nation: A collective of sewers making fabric masks to aid Navajo Nation Hospitals and Police Departments. Sign-up, make fabric masks, and ship them to the places that need them most.
Support Tribal Communities Facing COVID-19, Grand Canyon Trust.
The Network for Public Health Law: A network that believes in the power of public health law and policy to improve lives and make communities safer, healthier, stronger and more equitable. This network knows that understanding, navigating and using law and policy can transform communities so it works to help public health professionals, policymakers, researchers and educators, advocates and health care professionals do just that.
See the series on efforts to address Native American food security during the COVID-19 pandemic, including the following post:
Mathew R. Swinburne, "Addressing Native American Food Insecurity During the COVID-19 Pandemic: The Older Americans Act Title VI Programs," August 24, 2020.
United American Indian Involvements, Inc.
Urban Indian Center of Salt Lake (http://www.uicsl.org/).
Urban Indian Health Institute: UIHI is leading the way in research and data for urban American Indian and Alaska Native communities. As a Public Health Authority and one of 12  Tribal Epidemiology Centers in the country—and the only one that serves Urban Indian Health Programs nationwide—UIHI conducts research and evaluation, collects and analyzes data, and provides disease surveillance to strengthen the health of American Indian and Alaska Native communities.
See COVID-19 Vaccines on the UIHI website: The FDA issued an Emergency Use Authorization for the Pfizer-BioNTech and Moderna COVID-19 vaccines, which means many of our [Native] relatives can now choose to receive an approved COVID-19 vaccine. The Urban Indian Health Institute (UIHI) is committed to obtaining and sharing accurate information about the COVID-19 vaccines with our community and has produced resources meant to be used and shared by our American Indian and Alaska Native relatives, tribes, and healthcare facilities serving Indian Country. The purpose of these resources is to provide up-to-date information for those interested in learning more about the vaccines.
See also Data Genocide of American Indians and Alaska Natives in COVID-19 Data on the UIHI website: A report card grading U.S. States' quality of COVID-19 racial data and their effectiveness in collecting and reporting data on American Indian and Alaska Native populations.
Urban Indian Organizations, Indian Health Service.
Urban Inter-Tribal Center of Texas.
U.S. Department of the Interior: Indian Affairs.
Utah Division of Indian Affairs.
Utah Tribal COVID-19 Relief: the Utah State Bar Indian Law Section organized this donation drive and delivery initiative for Utah Native communities. They are partnering with the Utah Department of Human Services, Division of Juvenile Justice Services, Utah Division of Indian Affairs, Utah Foster Care, SLC Air Protectors, Utah Domestic Violence Coalition, Utah Office of Victim of Crimes, Title VI Indian Education Program, Utah Navajo Health Systems, Utah Center for Legal Inclusion​, Lear & Lear, PLLC, ​Urban Indian Center of Salt Lake. Backcountry and volunteer pilots have also worked with them to deliver donations to Navajo and Native American communities in Utah. Millcreek City also joined the partners to launch a food and supply drive in early June 2020.
"We Are Navajo": The organization known as "We Are Navajo" focuses to provide information and support to individuals on the Navajo Nation, in addition to 550+ Native American tribes. Navajo and Native American communities face many barriers including poverty at a rate of 43%, more than a third of our population live without electricity, paved roads, cell phone service, landlines, safe housing or other essentials of modern life. Therefore, We Are Navajo provides hopeful, inspiring and welcoming space for mind, body and spiritual growth. Their goal is to empower Navajo and Native American community by focusing on their overall well-being.
Ya'at'eeh Keshmish (also known as "Navajo Santa"): This non-profit organization strives to enhance the lives of Navajo people living in southeast Utah through the spirit of giving while fostering trust and respect between cultures. Navajo Santa's efforts bring relief, aid, support, and a bit of cheer to Navajo students, elders, chapter houses, and families in need, not just during the Christmas holidays but all year long.
#100PailProject, Yanawana Herbolarios-Navajo Nation: Theron Begay is an individual campaigning to raise $12,000 to put together 100 Needs buckets for elders living in remote areas of Navajo Nation with limited access to water and electricity. Donate to Yanawana Herbolarios-Navajo Nation Covid-19 Response.